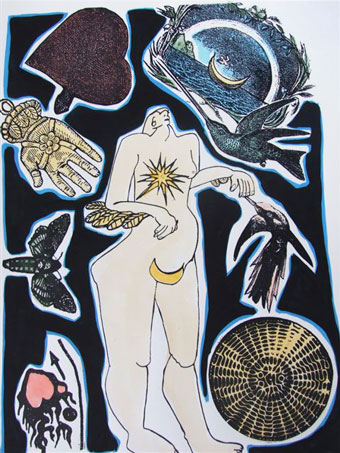 Paint on Paper. 2002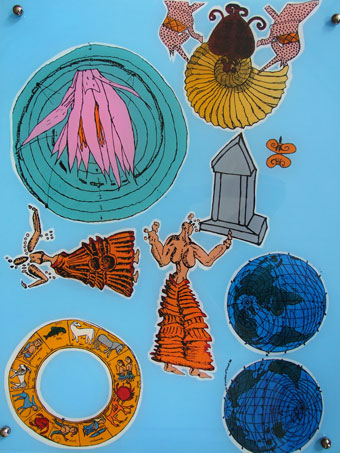 360 Degrees. Acrylic paint on perspex. 2002-03. 47x62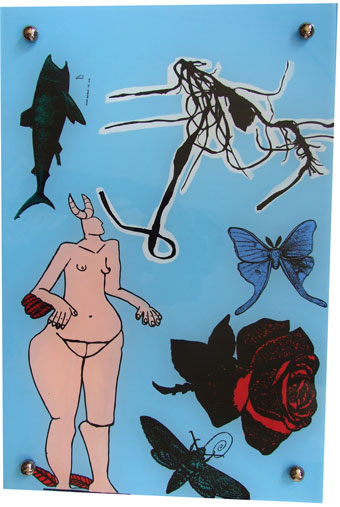 Acrylic paint on perspex. 2002-03. 46x30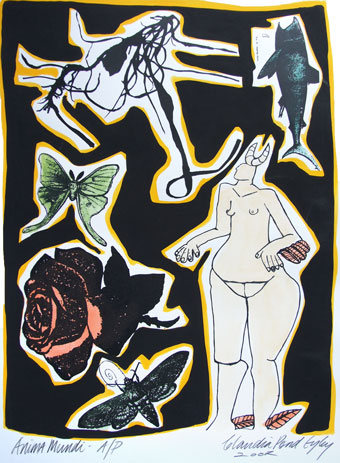 Paint on paper. 2002
Anima Mundi - Soul Of The World
Claudia Pond Eyley; Cultural Icons
Essay by Dr. Jan White, 2003
The creative impulse unifying an artist's consciousness with that of the viewer is vibrantly active in this new series of works by Claudia Pond Eyley.
Feminist and environmental issues are those we have come to expect from Eyley and this new series is the result of her reevaluation of material in earlier series.
Part of this assessment took the form of expeditions to the East and to Greece and Turkey, the cradle of Western civilization, site of Pond Eyley's European cultural roots, where she immersed herself in the ancient cultures that inform much of her day-to-day life.
Not only has Pond Eyley traveled to Europe to examine the ancient cities and seaports, temples and museums, as part of the process of renewal and discovery, she has also been journeying inwards; remapping the interior terrain of the psyche, tapping into these formerly unrealized cultural and spiritual forces.
These forces correspond with, indeed were triggered by a return to the original homelands enabling the artist to peel back the layers of understanding and make connections with the past.
The first noticeable shift in the works is the media- transparent perspex, unframed, unfettered, simply pinned to the framing device with chrome studs. This material lends the works a lightness and freedom that is also new- perhaps inspired by work in recent years in stained glass such as the windows the artist designed for the St. Mary's Cathedral Church in Parnell.
Silk screened printed onto perspex are some of the iconographic motifs we might anticipate.
The central theme of this series is Anima Mundi - Soul Of The World". She stands for the spiritual vibration, the essence of life and is resplendent with stars, crescent moons and the hermetic emblems that are imbued with mystery and yet culturally easily readable.
One of the works that evinces Pond Eyley's discovery of her European heritage is "360 Degrees" (2003) which functions as a close up of one group of mythical and metaphorical images. Ancient circles containing astrological signifiers, Minoan female goddess figures the artist captured from signet rings and seals from antiquity, suggesting the beginnings of Western civilization in Crete and Greece. A stylized temple, and Eastern Mandala signifying the labyrinth, a lotus blossom - all framed as universal emblems.
This series of new works by Pond Eyley exhibits the freshness of renewal as well as the exuberance for colour. The works have a new transparency and balance, testament to the artist's open clarity which reveals progressive movement through her personal life as well as providing the viewer with a contemporary take on the universal truths applicable to this time and place.
© 2003 Dr. Jan White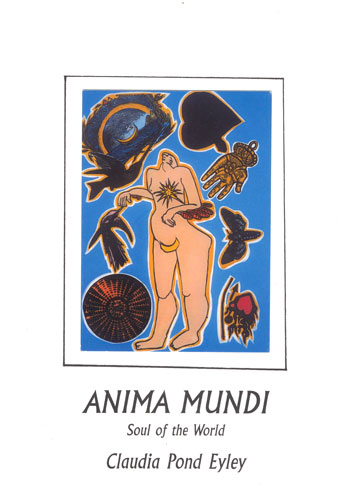 1