Commissions

Flying Inventions With Colour. With Pat Hanly, 1990
Enamel on Hardboard
The University of Auckland Art Collection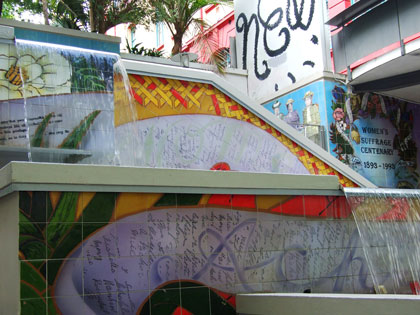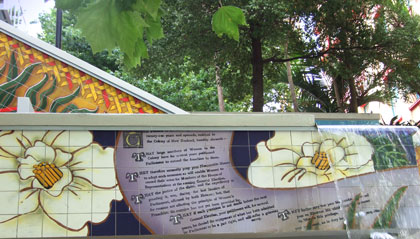 Women's Suffrage Centennial Project. In collaboration with Jan Morrison of Tile Art. 1993
Lorne Street, Auckland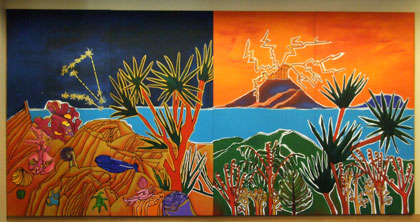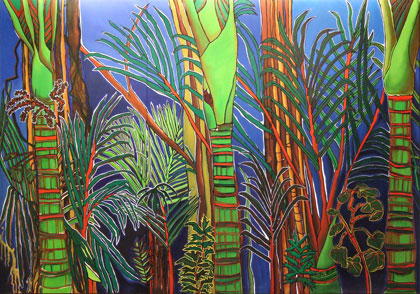 The High Court, 1991
Parliament Street, Auckland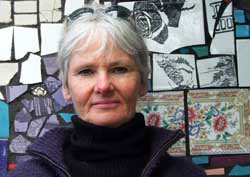 Claudia Pond Eyley
Visual artist, painter, printmaker, film director, Claudia Pond Eyley was born in Matamata, New Zealand and attended schools in Montreal, Canada and in New York.
She returned to New Zealand to attend the School of Fine Arts at Auckland University in the mid 1960's, specializing in painting with the leading artist Colin McCahon.
As a founder member of Visual Artists Against Nuclear Disarmament and as a member of the Association of Women Artists, the artist is active in the women's and peace and social justice movements during the 1970's and 80's until the present time.
She has traveled widely, facilitated workshops and exhibited throughout the country. This includes a two person survey show with Carole Shepheard at the Wellington City Art Gallery in 1985 and in a major solo survey exhibition, "Unruly Practices" at the Auckland City Art Gallery in 1993.
She has completed mural commissions at: Stokes Road 1980, Auckland University Arts Commerce 1984,
Auckland High Court 1991, collaborated with Pat Hanly "Flying Colours With Invention" at School of Architecture,
Women's Suffrage Centennial collaborative project in Lorne Street 1993.
In 2000, she designed and painted eleven stained glass windows for the St Mary's Cathedral Church in Parnell with Glassworks and many more.
Continually involved in Peace movement issues, Pond Eyley documented the Moruroa Peace Flotilla's protest actions during the 1995 resumption of nuclear testing in the Pacific which resulted in a major series of artworks and the publication, "Protest at Moruroa - first hand accounts from the New Zealand-based flotilla" by Tandem Press.
The artist started making documentary films in 2005 on the 20th anniversary of the bombing of the Rainbow Warrior. "Departure and Return final journey of the Rainbow Warrior" premiered at the NZ International Film Festival 2006.
This film was followed by "No Nukes Is Good Nukes!" about the grassroots nuclear free movement in NZ DocNZ 2007 Documentary Film Festival. This was followed by Kit & Maynie in 2010.
Her most recent film is Helen, which showed on TV3 in October 2013. Helen was co-directed and co-produced by Claudia with Dan Salmon for Mediaworks, with funding from New Zealand on Air. It screened on TV3 in 2013 and 2014, and was featured in the Documentary Edge Film Festival, 2014.
In October 2015 Claudia and Dan Salmon published Helen Clark - Inside Stories. Auckland University Press.
Inspired by the experience of working with glass Claudia Pond Eyley continues to paint using acrylic Perspex as a base, as evidenced in the exhibitions "Anima Mundi" in 2003 and "Radiance" in 2006.
Claudia was the Artist in Residence at Auckland Botanic Gardens in 2014 and 2015.
Claudia has illustrated three children's books with author Maris O'Rouke.
She lives in Mount Eden, Auckland, New Zealand.
Claudia on New Zealand Culural Icons.
A Full CV (pdf)
1