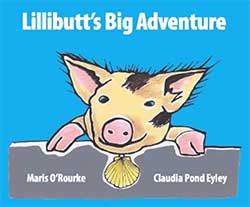 Lillibutt lived in a pig-pen below the Pyrenees. Lillibutt was lonely. Lillibutt was bored.
In this engaging and strikingly illustrated picture book, finally a young girl takes Lillibutt on the adventure of her life: a long pilgrimage on the El Camino walkway from France to Santiago de Compostela in Spain.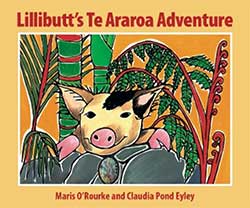 Lillibutt is lonely so she sets off from Cape Reinga on a very long walk to visit her kunekune cousins at the Auckland Zoo. As she travels down the country on Te Araroa she meets others along the way and overcomes some scary challenges during her long adventure.
A charming tale of perseverance that also gives the reader a look at the first stage of the Long Trail/Te Araroa, which runs the length of New Zealand for 3000km, and opened in 2011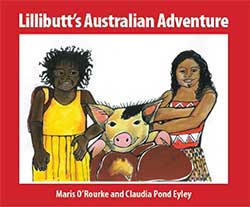 Following a dream, Myilly takes her visitors, Lillibutt and Moana, on a long adventure through the Northern Territory from Kakadu to Uluru. As they travel overland they face many challenges and meet the local people - including jackaroos, the Flying Doctor and children on an outback cattle station.
They also meet crocodiles, brolgas, dingos, feral camels, kangaroos and snakes
Children's books by Maris O'Rourke and Claudia Pond Eyley
Three wonderful children's books by author Maris O'Rourke and illustrator Claudia Pond Eyley – Lillibutt's Big Adventure, Lillibutt's Te Araroa Adventure and Lillibutt's Australian Adventure.
The three books are perfect for 5-11 year olds, school projects and children having reading difficulties.
Published by Duck Creek Press.
Lillibutt's Te Araroa Adventure is also available in Māori: Te Haerenga Māia a Riripata i Te Araroa
Dr Maris O'Rourke is a former Secretary for Education for New Zealand and the first Director of Education for The World Bank.
Maris is also an accomplished poet and her first collection Singing With Both Throats was published by David Ling Publishing in 2013. She lives and works in Mt Eden in Auckland
1